Miami's offense was a bit perplexing in 2016. The Marlins had players have good seasons, but the overall results were uneven. The Marlins ranked fourth in the Majors in team batting average (.264), but were 27th in runs scored (655).
"We've been good in average, and haven't scored runs," manager Don Mattingly said. "So that tells you, situationally, we're not necessarily doing the right things. Not getting the job done."
In analyzing what took place at the plate in 2016, Statcast™ provides some answers.
Emergence of Christian Yelich: Yelich, the club's best overall player, had a team-high 153 batted balls with an exit velocity of 100 mph or higher. That also tied with Eric Hosmer of the Royals for the sixth most in the Majors. The significance of 100 mph or higher? The MLB batting average last year was .629 on balls in play at that speed or higher. Yelich was at .616.
Interestingly with Yelich were his home and road splits. He had 57 balls over 100 mph (10.8 percent of his balls in play) at Marlins Park, compared to 96 on the road (16.9 percent).
Stanton vs. four-seam fastball: Giancarlo Stanton paced the Marlins with 27 homers, but the slugger struggled with the four-seam fastball. Among all hitters with 20 or more homers, the three-time All-Star's batting average against the four-seam fastball was .234. There were 111 players who had at least 20 homers in 2016. Stanton's average against the pitch is in the bottom 14 on the list. On the high end, Washington's Daniel Murphy and Houston's Jose Altuve each had a batting average of .382 off the most commonly thrown fastball. Mike Napoli (Indians), however, was at .199.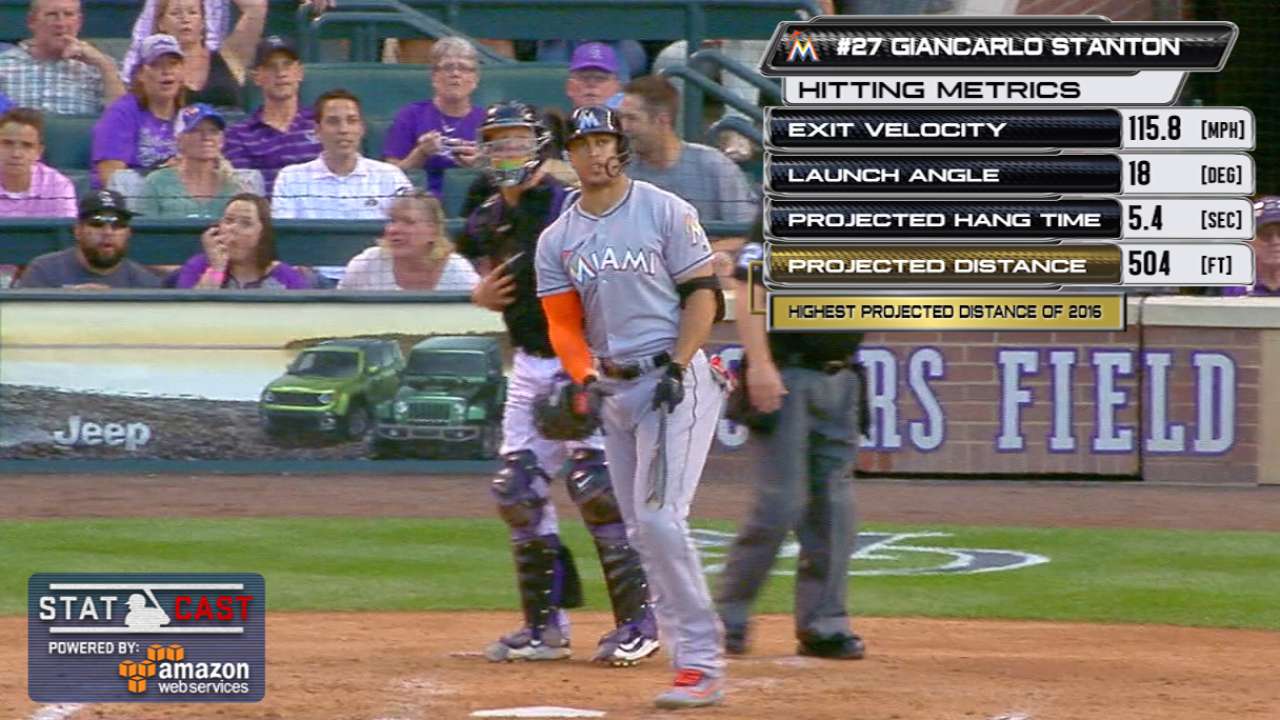 Stanton was one of three Marlins with at least 20 homers. By comparison, his .234 average vs. the four-seam fastball was significantly lower than Yelich (.358) and Marcell Ozuna (.337).
Marlins batting averages on balls in play at 100 mph or higher:
1) J.T. Realmuto (.659)
2) Stanton (.635)
3) Dietrich (.635)
4) Yelich (.616)
5) Ozuna (.600)
6) Justin Bour (.588)
7) Prado (.567)
8) Adeiny Hechavarria (.551)
When you consider the MLB average is .629, it shows Bour, Prado and especially Hechavarria may have dealt with some bad luck in 2016.
Joe Frisaro has covered the Marlins for MLB.com since 2002. Follow him on Twitter @JoeFrisaro and listen to his podcast. This story was not subject to the approval of Major League Baseball or its clubs.