Infielder Ryan Jackson, another non-roster invitee and former University of Miami standout, also projects to be part of the Cakes' roster.
Moore, den Dekker and Barnes each had opt-out clauses, but ended up wanting to be part of the organization, even if it meant breaking camp with New Orleans.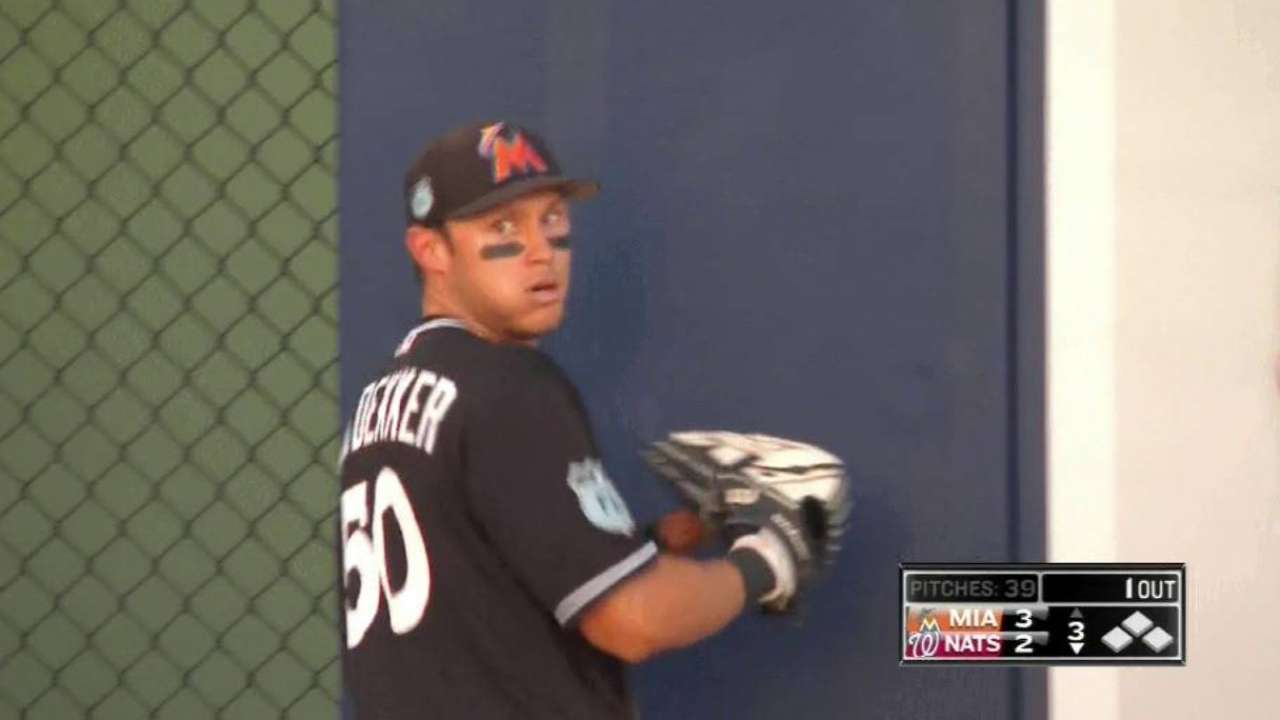 "Any of the guys who are non-roster guys that don't end up making your club, in my mind, I want them in the big leagues," manager Don Mattingly said. "I think those guys are big league players, and you believe that. That's the first thing you want for them.
"Selfishly, you love having those guys as a depth option. Again, we're happy these guys signed with us. And happy the guys have agreed, in some fashion, to stay."
The Marlins on Friday cleared a spot on their 40-man roster when No. 12 overall prospect Jake Esch was claimed off waivers by the Padres. Moore is expected to fill that spot.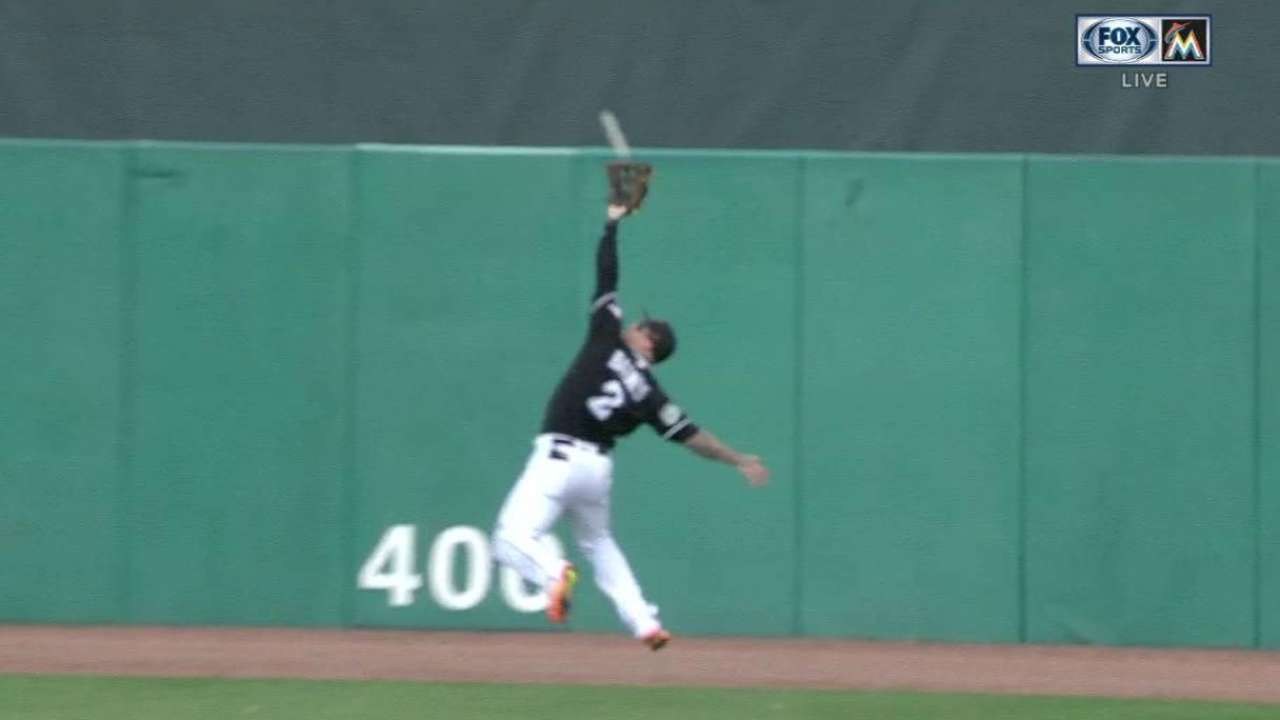 Once official, Moore projects to be a right-handed bat off the bench who plays first base and left field.
Moore last played in the big leagues with the Nationals in 2015. He suffered a left knee injury in late September of that year, and missed four months of 2016 recovering. He then spent some time in the Minor Leagues with the Braves, and became a free agent in October.
"I tried to come into camp and act like it was the last opportunity I was going to get," Moore said. "I just wanted to come in here and put everything on the table. I felt like I had a lot more left. I just wanted to come in here and play how I knew I was capable of."
Moore seized his chances, and belted five home runs in Spring Training.
The bench role opened after the Marlins placed third baseman Martin Prado (right hamstring strain) on the disabled list to open the season.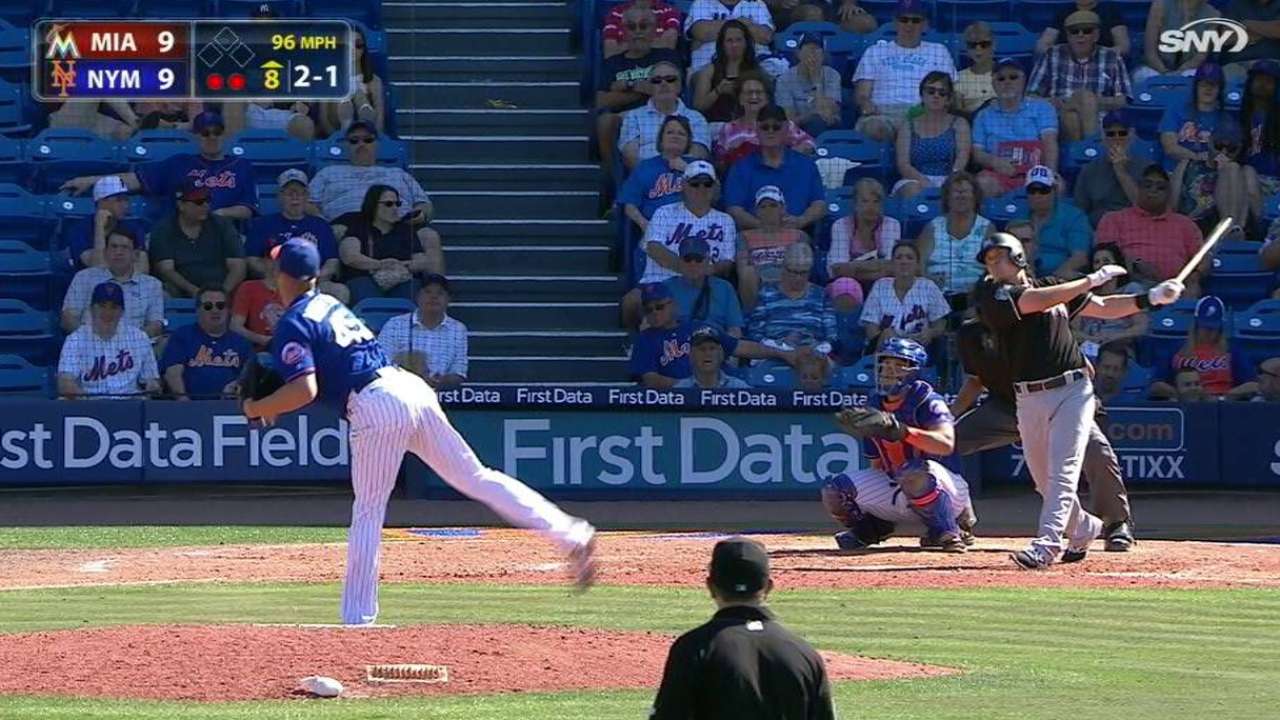 Miami is carrying four bench players and eight relievers, but that could change to five on the bench and seven in the 'pen in a couple of weeks.
The left-handed-hitting outfielder den Dekker also has had a strong camp.
"Obviously, signing a Minor League deal, it's an uphill battle making the team," the former Florida Gators outfielder said. "I talked about it with my wife and my agent. I kind of thought about the long-term more. I think it's a good fit for me here. It's a good club, good group of guys and I can see myself here for the long term, rather than opting out and play, possibly Triple-A somewhere else, then I'm kind of starting over."
Joe Frisaro has covered the Marlins for MLB.com since 2002. Follow him on Twitter @JoeFrisaro and listen to his podcast. This story was not subject to the approval of Major League Baseball or its clubs.