1
Miami
Miami News & Search
1 News - 1 eMovies - 1 eMusic - 1 eBooks - 1 Search
If the Marlins go with a five-man rotation and eight relievers — like they did this year — then it becomes difficult to retain a fourth outfielder, especially one who doesn't play at least one infield spot. If the Marlins return Giancarlo Stanton, Marcell Ozuna and Christian Yelich, Ichiro's playing time promises to be even more sparse, barring injury. But if the team rebuilds and there is sweeping turnover, that actually might increase Ichiro's chances of returning, because he could be a veteran presence on a young team. Ichiro has 3,079 Major League hits, and I know many want to see him have a chance to increase that number.
All things considered, do you see the Marlins taking more fliers than usual on reclamation and journeyman pitchers this offseason?
— Adam S., Hattiesburg, Miss.
• Submit a question to the Marlins Inbox
Stockpiling as much pitching depth as possible will be a high priority for the organization, but whether it goes above and beyond in getting "reclamation" projects or "journeymen," I'm not sure the front office's effort will be any greater than what we see in a typical offseason. Each season, clubs sign Spring Training non-roster invitees, many of whom fit the description of what you are describing.
Vance Worley, who has started and pitched in long relief this year, was a nice pickup after he was released by the Nationals late in Spring Training. Kevin Slowey, a non-roster invitee in 2013, comes to mind as someone who made the Opening Day rotation that season. And two years ago, Dustin McGowan was a non-roster invitee in Spring Training. He was effective in 2016, and he signed a guaranteed deal for '17 on his way to becoming a reliable reliever.
I see your point on exploring whatever options are available, but I think these types of pitchers are typically signed over the course of a normal offseason.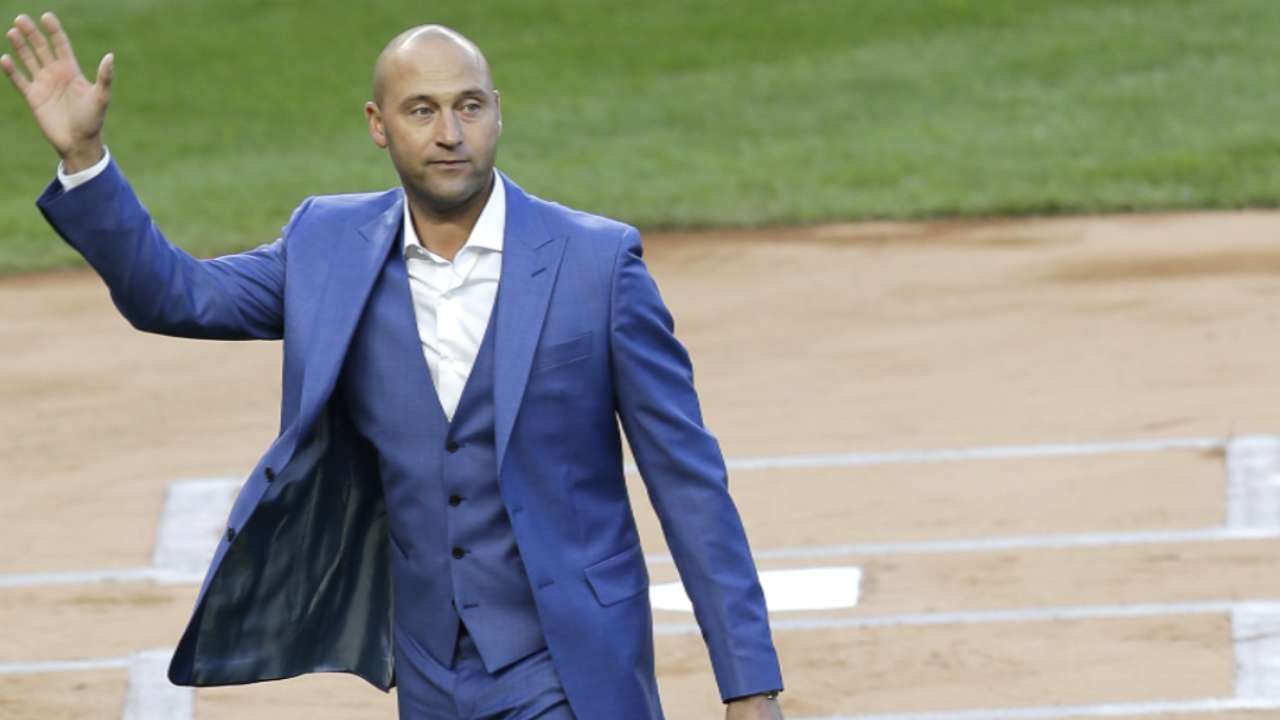 What are thances Jeter reverts the team back to the Florida Marlins and to pinstripes?
— @D_Rangel21
When the city of Miami and Miami-Dade County approved building Marlins Park, one of the conditions was the name change from Florida to Miami. So I don't see the organization changing from Miami back to Florida. Pinstripes? I wouldn't be surprised if new ownership tinkers with the uniforms. Whether that means going with pinstripes, who knows?
Are the Marlins thinking of moving Martin Prado, or do they still want to see more from Brian Anderson?
— @lalo_827Marlins
Prado has appeared in just 37 games this year, and he's under contract through 2019. He's been on the disabled list with hamstring and knee issues, and he'll turn 34 on Oct. 27. I'm sure the Marlins will explore trade options, but considering Prado's injuries, it is doubtful he will be dealt in the offseason, unless the Marlins pick up the majority of the $28.5 million he is owed over the next two seasons.
There could be a better chance the Marlins retain Prado for 2018 and hope he returns to full health and can play consistently. If so, he could be a trade option either in Spring Training (before Opening Day) or by the non-waiver Trade Deadline next July.
As for Anderson, if Prado is dealt, the club's No. 3 prospect will likely get a shot at being the everyday third baseman. The big leagues are all about adjusting and progressing. This September is valuable for Anderson, but his performance won't guarantee him a roster spot next Opening Day.
Are the Marlins going to keep their solid six hitters — Justin Bour, Ozuna, Yelich, Stanton, J.T. Realmuto and Dee Gordon?
— @SterlingRodger3
You're asking a question that no one truly has an answer for at this point. Until the ownership change is official, there's only speculation regarding the 2018 roster. The bottom line is that the Marlins haven't reached expectations this season. There have been tremendous individual accomplishments, but not much team-wide success. Stanton, who will make $25 million next year, will most likely be at least discussed as a trade candidate. Of course, with a full no-trade clause, the MLB leader with 56 home runs has a say in where he goes — if anywhere.
Based on how the season has played out, and the rising salaries on the Marlins' current roster, changes will undoubtedly be made. Bour and Realmuto could be the most likely to return because they will just be entering arbitration. Ozuna has two more years of arbitration eligibility remaining, and he will certainly have a big market for his services. Yelich and Gordon will also be costly to retain.
Joe Frisaro has covered the Marlins for MLB.com since 2002. Follow him on Twitter @JoeFrisaro and listen to his podcast. This story was not subject to the approval of Major League Baseball or its clubs.
1
Miami
Miami News & Search
1 News - 1 eMovies - 1 eMusic - 1 eBooks - 1 Search